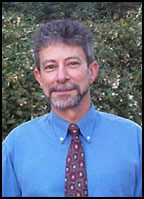 Professor, Clinical Program, Department of Psychology
Franklin College of Arts and Sciences
Dr. Blount's spiritual journey – I was raised in a small Southern town where everybody knew everybody. Close relationships were the norm. My mother and I attended a church where I heard about Jesus, how he died to pay for man's sins, and how he rose from the dead. I was also told that those who accepted Jesus' free gift of salvation would spend eternity with him. I made the decision to trust Jesus around 7 years of age. I grew in my faith and knowledge of the Bible, but became rebellious after my father died in my early adolescence. From that time on I was mostly in rebellion for the next three decades, with some occasional times of warming again to the Jesus I knew in my youth. My mother and sister persisted in prayer for me throughout those years. The self-directed path I chose was mostly one of seeking the meaning of life in intellectual pursuits, philosophy, and the hosts of pleasures, indulgences, and temptations that lure many teens, college students, and young adults. In college there was even an era when I would actually argue with young Christians about what I thought was the absurdity and backwardness of their faith. When attending church while visiting my mother, I would argue silently in my head and discredit the pastor's sermon. However, the music would bypass my arguments and prick my rebellious heart, sometimes even to the point of tears. Looking back, I now believe that this was God the Father going after his wayward son, even though I was still running from Him.
I worked hard and was very successful in graduate school and in my first faculty job at the University of Alabama. However I missed the close friendships of my youth and those I had during my years of graduate training. A void was opening in my life, even though I was prospering professionally. I turned to new age spirituality in addition to basic hedonism. I can't say that I didn't get something from them, because I did. There are many belief systems that can lure in many ways, and they can provide partial and temporary relief from the cares of life. However, I would soon relearn the truth that there is only one God, and Jesus is the only way to Him.
In my early 30s I wanted to meet the right woman to marry and start a family. Dating was never a problem for me, but I had never dated for the purpose of meeting a lifetime mate. I was the wrong person to finally try to find the right woman to become my wife. Predictably, the wrong man married the wrong woman in a Godless marriage that never should have happened. It ended after seven tumultuous years in a train-wreck of a divorce. I was literally broken, but so glad to be out of that inevitable disastrous situation.
It is often the case that strong-willed people have to be broken, and in my case, broken repeatedly, to be reshaped. During the time of extreme crisis I tried to find meaning and comfort in new age spirituality. That house of sticks was totally washed away because it was not built on anything other than shifting sand. There was nothing there to count on when the storms came. I finally turned to the book of Psalms in the Bible. They literally spoke to the deepest part of my self (i.e. my heart) as the psalmist cried out to the Living God, first in agony and then with praise as he moved within a few verses into communion with God. I started attending church again, really listening to the sermons and singing the hymns, and diving into books of the Bible. Scripture was alive and the words leapt off the page with wisdom, love, and the experience of renewed life and hope. I was wowed by the love of Father God and my Savior Jesus, and knew I would never leave again. I would not choose to enter that broken time of life again, but I would never want to give it up either, even if I could. It was a vehicle through which God the Father, Jesus the Son and the only Savior, and Holy Spirit had finally brought me back into the life giving relationship with themselves.
I met my wife for life after that. She was a committed follower of Jesus, and I was hungry for God. I grew in depth and knowledge in the faith. We always have had a Cord of Three relationship, with Jesus interwoven with us. Dates often involved Bible study, prayer, praise and worship events and Christian concerts, as well as good hikes, food, social events, and lots of laughter. We have been married a decade and a half now, and I have never been happier and more at peace. Our home is the shelter from the storm, and not the storm itself. Our day-to-day activities involve laughter, play, and encouraging each other in the Lord. The right man married the right woman in a Cord of Three marriage (Ecclesiastes 4:9-12). She and I passionately pursue the Lord Jesus together and believe that we are bearing fruit from the intimacy we have with Him.
In my days before following Christ, I used to accomplish professionally through my own might as well as inspiration. That strategy didn't work after I returned to Him. These days He provides a bounty of professional opportunities for me that go well beyond what I could do with my own efforts alone.
I am glad that He did not let me die, and there were times when I could have, when I had my heart set against him, pursuing momentary pleasures and lesser gods of my own making. Even though I had come to know Christ as my Savior as a child, I had turned from Him for decades. I had no assurance that if I had died that I would have been in Heaven rather than Hell. Since returning to Him, I have total assurance that He walks with me and in me moment-by-moment, and that when it is my time to die, as every living creature will, that I will spend eternity with Him.
My prayer for you is that God would place an insatiable hunger and thirst for Himself inside you, that you not be satisfied with anything less, and that you do not turn away. May you yield to the Holy Spirit's calling you to Jesus, the one and only way to salvation. In the book of John, Jesus says about Himself, "I am the way, and the truth, and the life. No one comes to the Father except through Me." That is an unequivocal statement on which I stake my present life, my future in this world, and my eternal destination. My prayer is that you; all of my past, present, and future students and colleagues; all of UGA; all of my family; and the entire greater Athens area come to know Jesus as Lord and Savior. Everybody ought to know who Jesus is! It isn't just for hereafter that Jesus came. Jesus said, "I have come that they may have life, and have it more abundantly." (John 10:10b) That abundant life is here and now, as well as hereafter. It is a life of adventure and blessing, and you will never again be alone.
In closing, I want to share a link to one of the infrequent 'sermons' that I had an opportunity to give a few of years ago. The actual title is: "Where is Jesus in the Car of Your Life?"
http://www.sjumc.org/Websites/sjumc/Blog/4725238/06-24-12-Where-is-Jesus-in-Your-Life-RonBlount.mp3
Taking the next step: A simple way to show you how to enter into this new life is available at this link: http://crustore.org/four-laws-english/
If you would like to speak further about this, I welcome you to contact me at rlblount@uga.edu